NEW EDITION COMING SOON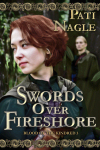 Blood of the Kindred series, Book 3
The tale of the ælven's struggle against their kindred foes, the vampiric alben, continues…
Eliani and Turisan yearn to be reunited as they aid in the fight to hold onto Fireshore. The capital city of that realm has been captured by the alben leader, Shalár, and along with it, Fireshore's governor and Eliani's beloved cousin!
Shalár now has her eye on Woodrun, the center of Fireshore's darkwood production. As Turisan races to bring an army to Woodrun's defense, Eliani must rescue the captives from Shalár's toils. Hiding from alben pursuers in the darkwood forest, she encounters a group of exiles, the Lost, who suffer the alben's curse of bloodthirst but strive to follow the ælven creed.
Are the Lost enemies or friends? Ælven or alben? The distinctions blur as the ælven approach a conflict that could destroy their hope of holding Fireshore.