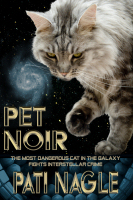 Can a lowly gumpaw hope for love with a girl who rides in a jewel-encrusted carrier?
Feline investigator Leon, with opposable thumbs and the ability to talk, is possibly the most dangerous cat in the galaxy. Indentured to the Security department of Gamma Station until the cost of his creation is paid off, Leon alternates between harassing his human partner/roommate Devin and fighting sleazoid criminals, yet still finds time to flirt with the lovely Leila, an exotic Burmese who lives in the swankiest level of the station. Will he win her heart, and more important-will he win his freedom?
paperback at IndieBound (find your local independent bookseller)
or buy it from your favorite online bookseller!