An Ælven Story
This is a novella (a short novel).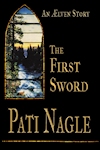 Fleeing the savages who destroyed his home, an ælven bladesmith must forge a new weapon to destroy the enemies standing between him and freedom.
Wounded and grieving the death of his love, Ghaláran helps another survivor escape the raiders who destroyed their village.
ebook at Book View Café << author earns the most from this link
audiobook