Hello, all!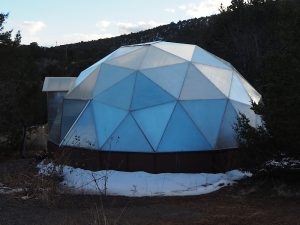 I've decided to post my dome updates here, so I can just share the link around to various places. The Dome is a 22′ diameter greenhouse that was built from a kit in October 2020. Various technical issues kept me from planting anything until around February/March 2021. Meanwhile Chris built the absolutely gorgeous raised beds, and we filled them with rich soil.
So, it's still less than a year since I started growing things in here, but it's done a lot already. The photo at right is from today, some leftover snow still hanging around on the northeast side here.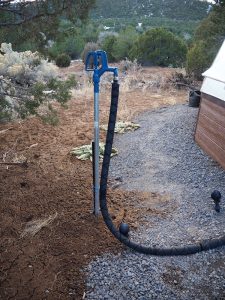 Last fall I had a frost-free water line put in to this hydrant just outside the dome (easier than going through the wire and gravel foundation to bring it inside). Makes it much easier to water – no dragging hoses around.
---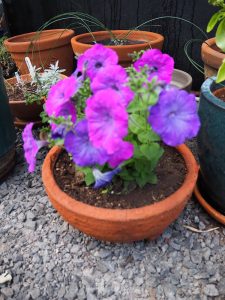 Here's what's happening in the dome lately:
Purple petunias – sorry it's out of focus. I'll get a better shot next time. Meanwhile, isn't the color gorgeous?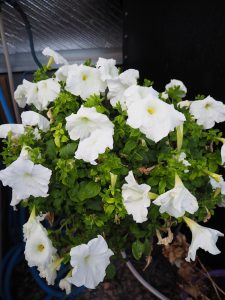 White petunias, happy still. This is a single plant, I think. It was in the house until it got too big. It may be a year old by now…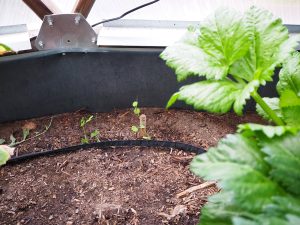 Snow peas sprouting…
That's the amazing celery plant on the right. This is supposedly a small variety of celery.  About the size of a straight-backed chair. Whew – I'm glad I didn't plant a big one!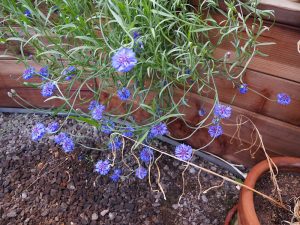 Cornflowers going strong. I love the blue color of these. They show no signs of slowing down.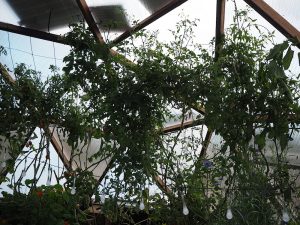 Tomatoes climbing the walls. I have to prune them constantly. They are quite enthusiastic still, and have lots of fruit.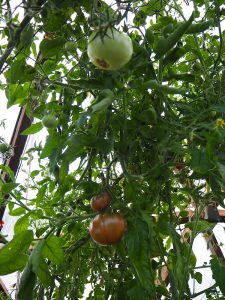 That's a white tomato at the top on the left. It isn't ripe yet – they look kind of creamy when they're ripe.
Below it are a couple of heirloom tomatoes. These are from seeds that I saved from a really delicious tomato I got at the grocery store. They're kind of chocolatey brownish red when fully ripe, like my chocolate cherry tomatoes.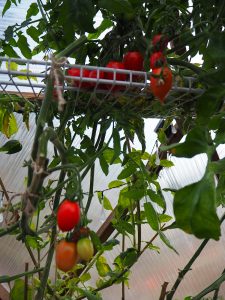 More tomatoes…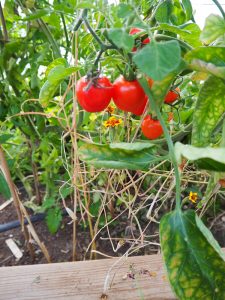 …and more….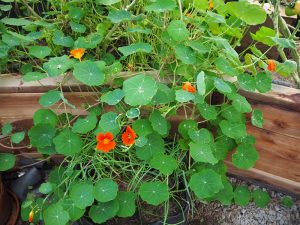 The nasturtiums apparently like cool weather. They didn't do much until November.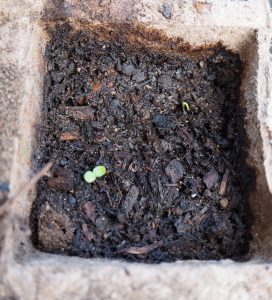 And here's a pansy seedling, just sprouting. They like darkness to germinate, so I have been keeping them covered with some butcher paper.
That's the dome news for now. Stay tuned for Spring! I've got seed catalogs, muahahahaaa!