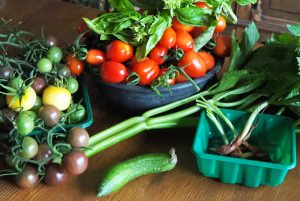 Less than a year ago, I began planting things in my new dome greenhouse. Today I brought in this beautiful harvest, because we're forecast for some very low temperatures this weekend. I have a little heater in there, but I felt it was time to bring in the ripest tomatoes. A few not-quite-ripe ones came along, and they can ripen in the house. I also brought in what may be the last cucumber (there's one more tiny one, but I don't know how big it will get), some basil, a stalk of celery for our salad tonight, and some baby shallots. Still figuring those out.
There are still many tomatoes in the dome, as well as other things:  the celery is perfectly happy, and the nasturtiums apparently love cold weather, because they're going crazy right now. And the cornflowers and calendula continue to bloom happily. The Our Lady of Guadalupe rose has been blooming since mid-December.
I am deeply grateful for all the bounty given by our gardens this year.
May all of you be blessed with wonderful bounty, and may 2022 expand those blessings for you.
Happy New Year!