So I went to my filing cabinet to put away some papers, and to make room for them I pulled out an old file of records from 1993. Before disposing of it, I started to leaf through it. It turned out to be a delightful time capsule!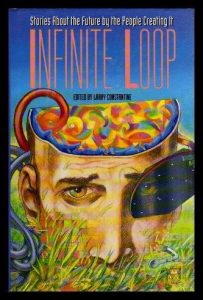 1993 was the year I sold my first short stories, one to The Magazine of Fantasy and Science Fiction, and two to anthologies. One of the anthologies was the first to hit print: Infinite Loop, with, um, a rather unfortunate cover, ever-after known as "Rainbow Brains." The poor guy looks a bit embarrassed.
I was in a writer's group at the time, and as a fledgling writer, I also hung out with lots of other writers, mostly of fantasy and science fiction, on GEnie. Remember GEnie? (See educational link if you're too young to remember.)
Movies I saw that year, in the theater or rented, included The Piano, The Secret Garden, The Three Musketeers (Kiefer Sutherland version), Mrs. Doubtfire, Remains of the Day, The Firm (which I don't remember), Robo Cop, Bang the Drum Slowly (which I don't remember), and A Few Good Men. I also purchased – on VHS cassette! – Impromptu, Bull Durham, and Field of Dreams. Those last three I still have, now on DVD.
I attended ArmadilloCon, perhaps for the first time, and spent several hours hanging out in Pappadeaux with other writers, drinking and talking and scarfing Cajun food. I also attended Bubonicon, our local con.
Sazlar, the all-girl Middle Eastern band I was in, had two paid gigs that summer. Woohoo! One was at the City of Albuquerque's Summerfest, and the other was for the opening of an exhibit called "Byzantium Revisited" at the Maxwell Museum. I'd completely forgotten about that one.
Who would have thought that a handful of yellowing papers would be so interesting? Maybe to you it isn't, but for me it's a fascinating snapshot of a time when my career was just beginning, of the popular culture at the time, and of technologies that were so advanced and cool then, and are all but forgotten now.