(This post is part of a blog series. In case you haven't read it, here's the first post.)
---
An ICE (Internal Combustion Engine) car requires a lot of maintenance. Oil changes, spark plugs, belts, lubing, etc., etc. Usually three or four times a year our ICE car visits the dealership or an oil-change place.
We read through the Tesla owner forums and decided to wait until we hit 50,000 miles before taking Nikola in for maintenance. Partly this was because there are no Tesla service centers in our state (a protectionist law sponsored by the auto dealerships prohibits them; watch for that to change in the near future). Partly it was because the Tesla doesn't need a lot of fussy maintenance.
We had a puncture in one tire. A tire place took care of that, and didn't charge us. I suspect they enjoyed the visit from the Tesla.
So our first true maintenance visit, and first maintenance expen­ses, would come about 18 months after we got the car. Having waited that long, we knew that the visit would be costly. For one thing, it was time for a new set of tires. For another, the brakes would need to be checked, and the things that need lubing (of which there are far fewer on a Tesla) would need attention. The service center was up in Denver, a 440-mile drive. It would be our longest road trip yet, and we planned to make it a mini-vacation. We scheduled the service, then booked a short stay at an historic bed and breakfast. We'd spend a couple of days sightseeing, then collect our car and drive home.
Since his daughter lives in Denver, we invited my brother, Darragh, to come along on the trip. He chose to stay at a hotel closer to where his daughter lives, and also quite close to a Supercharger station. He would hang out with her while we toured around.
The drive to Denver from Albuquerque required three charging stops: a short one (fifteen minutes or so) in Las Vegas, New Mexico, a longer lunch break in Trinidad, Colorado, and a third between there and Denver. We chose to stop in Colorado Springs, and by chance found a lovely French place that made great crêpes, so that became a longer stop than strictly necessary.
Because my brother hadn't been in a Tesla before, the trip wound up being an extended demonstration and discussion of everything we had learned and experienced so far. We were now comfortable with Autopilot, though still increasing our understanding of it. Darragh was enthusiastic, and we gave him a chance to drive part of the way.
The Las Vegas to Trinidad leg went over Raton Pass, on the border between New Mexico and Colorado, before dropping down into Trinidad. That meant a long, steep climb over the pass right before the end of the leg. We had calculated the amount of charge needed. We wound up dropping below 20%, at which point the car starts actively asking to be charged. The charge indicator icon goes from green to yellow. (Significant emotional impact!) Slightly nervous-making, but not an issue, we knew. We were going downhill into Trinidad, so we'd get some energy back through regenerative breaking.
As we descended, we spotted another Tesla Model S, a 70 (as opposed to our 85 KWH battery). It was going very slowly down the hill, and the driver looked anxious as we passed. We saw this car again at the Supercharger in Trinidad, and talked with the couple who owned it. They had come from Amarillo, along a side highway with no Supercharger, and had been squeaky-low before reaching the charger. It was their first trip along that route.
We were all learning.
We reached Denver, dropped my brother off at his hotel, then went to check into our B&B. Our service appointment was for the next morning, so we got to experience Denver rush-hour traffic on the way to the service center, a small storefront in the south part of the city. We'd never been there before. We had been to the showroom, which is in a big shopping mall, also south of Denver.
The service center was busy, but we had no problems checking in. A line of loaner vehicles out front included several older Teslas, a Mercedes, and a BMW. We were delighted to be given a Tesla to drive around while ours was being serviced.
All Teslas can be named on the touchscreen control panel. We had named ours Nikola well before we got the license plate. Someone had christened our loaner car Loany McLoanface.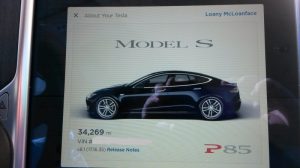 Loany was black, and much older than Nikola. So old that it had no cameras – it was blind. This made us feel a little sad, not for ourselves so much as for the car. A blind Tesla seemed tragic to us, since we knew the delight of driving one that could see.
But hey, we still had a Tesla to drive around. Life was good.
Loany took good care of us as we toodled around Denver. There were times when we really missed the cameras—no Autopilot, of course—but overall we were happy.
Saturday morning we drove down to collect Nikola, and in the service center's parking lot we spotted a Roadster! We had never seen one before. It was so tiny!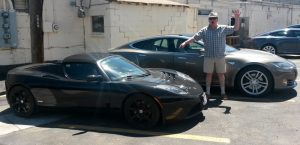 Here's my spouse pointing out the difference between the Roadster and the Model S beside it. The thing came up to his waist.
After admiring this little beauty, we collected our car, and then my brother, and headed home. Stopping again at the French place, we noticed a guy with a bottle of glass cleaner at the Supercharger, cleaning the bugs off his Model S. We couldn't help laughing when we saw him again in Trinidad – cleaning off the bugs again.
It was a pleasant drive home. I rode in the back seat, and we gave my brother another chance to drive. I remember looking up from my book to find my spouse gently dozing in the shotgun seat, while my brother gazed out the driver's window at the scenery. Nikola, on Autopilot, was taking care of us.
(Remember – Autopilot is not fully autonomous. You, the driver, are still responsible for what the car is doing. But it's really nice to be able to take a long look at the scenery now and then.)
We got to Santa Fe without incident, and dropped my brother at his place. Within a week, after driving his ICE car around, he was seriously contemplating buying a Tesla. We recommended he put the $1,000 refundable deposit on a Model 3 – and he did – but before the month was over he got impatient and found himself a used Model S.
Funny thing – it was Deep Metallic Blue.
(On to part 8…)
---
Tesla has again updated their referral offer! If you use a referral code from an existing Tesla owner, like this one: http://ts.la/pat9663 (good for five referrals, after which it expires) to order a new Model S or Model X, you will be eligible for free Supercharging as long as you own your Tesla. The same code is also good for a 5-year extended limited warranty on a new solar energy system installation. This offer ends April 30, 2018.