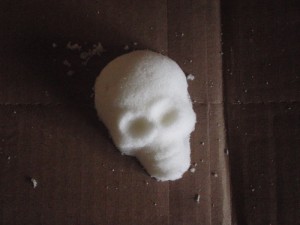 It's mid-October, one of my favorite times of year, and I'm preparing for my annual sugar skull decorating party. It's a fun activity, and also a tribute to those who have passed on. Every year guests honor loved ones, relatives, dear friends, beloved pets – even a popular character from a TV series.
So I am in my kitchen with a ten-pound bag of sugar, a jar of meringue powder, a skull mold and a bunch of cardboard, ready to make the skulls. It's a little tedious, but as I measure cup after cup of sugar into my largest mixing bowl, I think about the skulls and what they mean, and the happiness they promise. This tradition is not morbid; it's joyful. It's remembering with fondness those who are no longer with us.
I had a conversation with one of this year's guests about whether or not to serve sweets at the party. I tend to avoid it, because there's so much sugar present as it is. Not that anyone eats the skulls; they're edible, but it's essentially a giant lump of sugar, and most of us are past the age when that sounds delicious. But just handling them seems to impart a bit of a sugar high.
In fact, as I stir the meringue powder and sugar, I realize I'm inhaling a fair quantity of sucrose just from what's in the air. I put a stop to that by adding the small amount of water needed to bind the sugar into a moldable state.
My recipe says the mixture should feel like slightly damp sand, not wet, but damp enough to hold its shape if you squeeze a handful. As I knead in the water, making sure there are no soggy lumps, I think of walking on a beach as the tide goes out. Firm, damp sand underfoot. One could make a sugar castle, I suppose.
The sand simile is appropriate. Like sand, the sugar gets everywhere. On the counters, on the floor, on my clothes. The kitchen will need several wipedowns, sweepings, and at least one mopping before it's back to normal.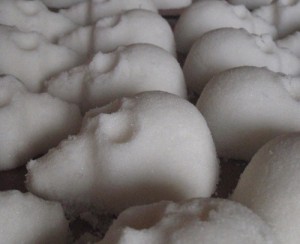 With the sugar mixture just damp enough, I start molding the skulls. Scoop up a handful, press into the mold, brush off the excess, flip onto the plastic card (which I made years ago after going through too many index cards), and slide onto the cardboard. Repeat many times. The cat watches from the sideboard, no doubt wondering what the crazy human is up to now.
When all the sugar is gone, there are sixty skulls. That's probably enough. Most guests decorate at least two; some do four or even six.
The skulls must dry for a day or so, and then I'll get out the paints and sequins and feathers and glue and whatnot, and we'll make a grand mess and have wonderful fun.
But until then they are pristine; they are merely a promise.
I guess they're a little ghostly after all.